You want to enjoy your cross stitch hobby without spending a ton of money. Here are 20 hacks that I've learned along the way to help me save money and enjoy cross stitching every day. Check back as more tips will be added!
Check out this video for a quick 4-minute review of 5 of my favorite money-saving cross stitch tips.
These money-saving tips have been organized into categories:
Alternative Cross Stitch Tools & Materials
1. Use a Steering Wheel Cover as a Grime Guard
Instead of a fancy, schmancy grime guard, pick up a steering wheel cover from the dollar store. Just like grime guards, the dollar store steering wheel covers are soft and elastic and able to stretch over a couple of different hoop sizes.
2. Use an Exercise Measuring Tape
For most cross stitch projects, you won't need a measuring tape longer than 3 feet. I have purchased many exercise programs over the years and all of them came with a measuring tape about 3 feet long. Instead of buying a new sewing measuring tape, I just used one of my old Beach Body measuring tapes that I pulled out of my dusty exercise equipment bin.
3. Use Binder Clips to Hold Extra Fabric
You can use Fabric Keepers or Thread Spool Huggers to secure the extra fabric outside of your hoop. But if you have a few binder clips hanging around your home office, try them out instead. Just make sure they're not rusty.
4. Use Painter's Tape or Masking Tape Instead of Fray Check
You need to secure the edges of your fabric to prevent them from fraying. Most tutorials recommend using Fray Check or Pinking Shears, which are effective at keeping the fabric together. But equally effective and less expensive is tape. Masking tape is a viable alternative, but can leave a little bit of sticky residue once removed (which is washable). Painter's tape is the best because it is designed to have a temporary hold. 
5. Try Something Completely Different, Like Monk's Cloth
Sold by the yard, monk's cloth is a 100% cotton, even weave fabric that has a natural ivory, tan or kaki color. It is softer than aida cloth because it isn't starched, and makes a cheaper alternative to aida for cross stitch. Monk's cloth mostly comes in 8-count – which is much larger than the standard 14-count recommended thread count for cross stitch. It's good for larger projects like afghans, throw rugs, towels, curtains and tree skirts.
Keep an open mind when looking at fabrics and remember you can cross stitch on any even weave fabric.
6. Sandwich Baggies as Floss Organizers
Ever hear of Floss Bags? They are plastic bags with a small hole punched in the corner that are meant to store and organize embroidery floss. They have a white area where you can write the floss number. You can use plastic sandwich baggies instead, I do! And I use a sharpie marker to write the floss numbers on the bag. I recommend placing a piece of acid free tissue in the bag around the floss to protect the colors from any acid that might be in the plastic. This also makes it easy to see the floss numbers written with the sharpie.
7. Cheap Embroidery Floss Brands
Lord Libidan, a well-known cross stitch blogger, has compared cheaper brands to the standard, DMC embroidery floss. Of particular note are the CXC brand of threads, which are colorfast. Because I recommend washing your cross stitch project when you're done stitching it, I would try the colorfast alternative threads first.
Here's a link to Lord Libidan's article "Are Cheap Embroidery Threads Worth It?"
https://lordlibidan.com/are-cheap-embroidery-threads-worth-it
Free Stitchy Resources
8. Notorious Needle VIP Free Cross Stitch Pattern Archive
Enjoying This Tutorial?
Become a VIP and get instant access to free patterns, plus future tutorials and stitchy inspiration delivered to your inbox.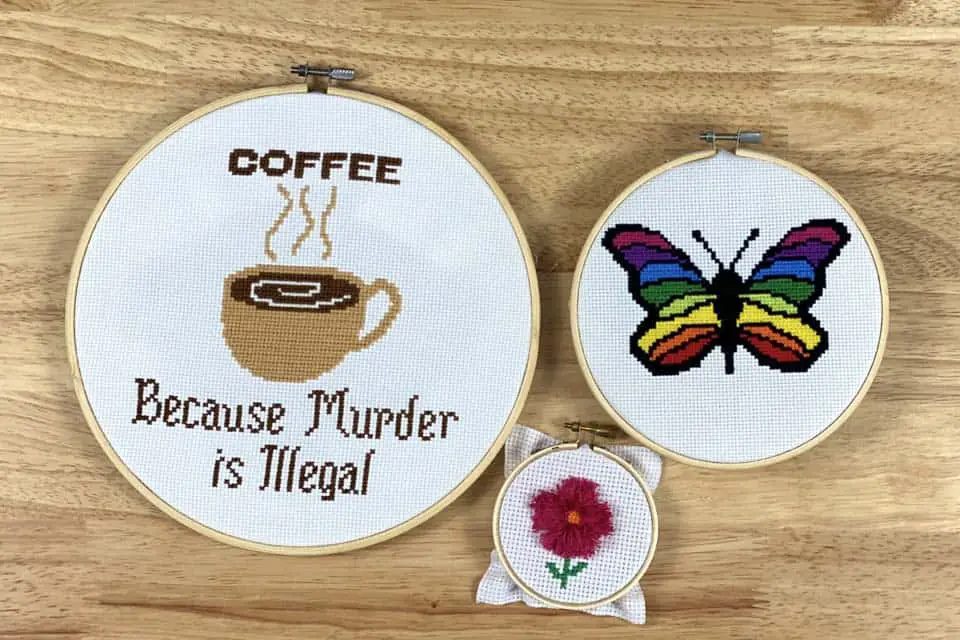 9. Local Library has Free Cross Stitch Patterns and Tutorials
My local library has cross stitch books and magazines FULL of free patterns. I can even borrow digital versions of these using a special app. One of the best things about borrowing digital items from my library is that they are automatically "returned", so I never pay late fees.
Find out about your local library using WorldCat:
https://worldcat.org/libraries
10. Free PDF Readers
Many contemporary cross stitch patterns and some tutorial downloads are in the form of PDFs. So you'll need a PDF reader to use these tools.
Adobe Reader is free and you can download it here:
http://get.adobe.com/reader/
Knit Companion is pattern reader app that has a free option. It reads PDF and enhances them with useful tools for patterns, such as markers to keep your place and mark off finished portions of the pattern. Learn more about using Knit Companion for Cross Stitch.
You even have a free PDF reader on your phone. iPhones have a default PDF reader app called Books. This is useful because you can use highlighters and pens to make notes on your PDF Patterns.
Both Android and Apple users can download any number of free PDF apps from Adobe, Google, etc.
Buy Cross Stitch Supplies in Bulk
11. DMC Floss Cones
DMC produce huge cones of embroidery floss for their most popular colors. They also have medium cones. This is a great option if there's a particular color that you use a lot of. I have the DMC 310 (Black) and DMC White Cones. This may seem counter-intuitive since a cone of floss is so much more expensive than a couple of skeins of floss. But when you math it out (I know, I know, math sucks, lol, but you need math to know if you are saving money), yard-by-yard the floss is about 1/3 the cost on a cone than on a skein.
12. Buy Embroidery Hoops in Bulk
Buying embroidery hoops in bulk can save you money if you're stitching a lot and framing your cross stitch in the hoop. I buy the inexpensive bamboo hoops in bulk to frame and decorate my cross stitch. Keep in mind that these are not high quality hoops, so they may not be the best to stitch in and use over and over again. I buy the inexpensive bamboo hoops in bulk to frame and decorate my cross stitch for gifts or to keep on my wall. I find they cost a lot less than a standard picture frame.
Even the expensive hoops will be less expensive with a bulk discount.
13. Buy Needles in Bulk
If you're like me and you find that the finish on your embroidery and tapestry needles disintegrates in a day (or sometimes less!) of stitching, you might save some money buying your needles in bulk, too. You already know you're going to go through them, might as well get a bunch for that volume discount.
Alternative Sources for Tools & Materials
14. Online Yard Sales
Places like Offer Up and Facebook Marketplace often have large collections of cross stitch stuff for sale at a small fraction of the cost of buying these tools and supplies brand new. The upside is you save a LOT on fun stitchy stuff. The downside is that you don't always know what you're getting.
Free Cycle and Buy Nothing groups can help you find supplies for free near you if you just pick them up.
15. Thrift Stores
Like yard sales but better organized, thrift stores can hold treasure troves of cross stitch supplies. Each neighborhood is different and you never know what you might find. Locally, I don't find a whole lot of cross stitch specific items in the thrift stores near me. At thrift stores I find the best deals on frames!
16. Estate Sales
Sometimes when folks pass, they sadly have no one to pass on their crafty stash, along with many other belongings. Estate Sales can be as good a place to find stitchy stuff as online marketplaces and thrift stores. A lot of the time, the cross stitch patterns and kits included in these estate sales are hard to find and out of print, and you can discover a real gem. At worst, you can purchase a lot of tools and supplies on the cheap.
Just Google "Estate Sales Near Me", or try EstateSales.org to find a local estate sale.
Tip: For any of these alternative sources that might come from someone's home, make sure to ask if there were any smokers or pets in the home if you have respiratory concerns.
Stash Conservation
17. Conserving Floss with Thread Chicken
Let's play Thread Chicken! Thread Chicken is a little game stitchers play to see how long they can get that strand of embroidery floss to last. Will you make it to the last stitch? lol It's also a way to waste as little floss as possible. I show you how to win at thread chicken in this sill video.
18. Keep Extra Floss from Kits
Cross Stitch kits provide extra floss just in case you make a mistake and have to pull out and restitch your stitches. Which means you're usually left with a bunch of extra floss. Store and organize this floss so you can come back to it later when you need. You never know when you might be out of a specific color, and you need just 2 stitches of a pretty blue for a pair of eyes.
The same goes for needles, beads or any other supplies that come with a kit.
19. Sub for Colors You Already Have
If you've run out of a color, before running off to the craft store, check through your stash and see if you have a color that's close enough. This might not work when, for example, the missing color is one in a number of different shades of purple in a dress. It works great for a small motif that has only one shade of a color. Take the 3D Cross Stitched Rubik's Cube above. You don't have to use that exact orange for those blocks, any bright orange will do.
Tip: Add that missing color to your crafty shopping list for next time and minimize trips to the craft store, saving time and money on gas.
20. Save Scraps of Fabric for Small Projects
Those weird, long strips of aida or linen can be used to make a fun bookmark. I show you how to do that in this tutorial:
https://notoriousneedle.com/diy-cross-stitch-bookmark-without-glue/
You can also use the tiny scraps to stitch small motifs and glue them into greeting cards and gift tags for a special, handmade touch.
Stitch on!