You HATE making mistakes in your cross stitch. But you LOVE your iPhone and iPad! Pattern Keeper isn't available for iOS devices (as of this writing), so what can you use instead? 
My Mom told me to try out Knit Companion a few months ago, and I'll probably never switch, even when Pattern Keeper is released for Apple devices. This isn't a sponsored post or anything, I'm just really loving this app and how it helps me cross stitch faster while making fewer mistakes so I can relax and enjoy my hobby more. I may never grid my fabric again! And I think it can do the same for you. Let me show you why.
Click here to learn how to grid your fabric.
The example pattern in the photos below is "We Are Made of Star Stuff" and is available in the Notorious Nook free VIP Membership.
What are people saying about Pattern Keeper?
I asked around some cross stitch Facebook groups regarding what they loved and hated about Pattern Keeper. Dozens of people responded, and here's what they said:
Pros
I can reuse my pattern, even after marking it up.
My pattern is not a pile of paper, getting dirty and torn.
I love how it helps me keep track, I feel I stitch much quicker and do more stitches daily.
Cons
Doesn't support back stitch
No fractional stitches
Some patterns don't work
Have to manually load all the colors
Not available on iOS
All of the features I would use in Pattern Keeper are also available in Knit Companion. And more! Even though Knit Companion is available for Android and iOS devices, I'm going to focus on the iOS version here, since that is what I use.
Watch this brief video demo of some of the best features in Knit Companion
Pattern Keeper v. Knit Companion Features
| | | |
| --- | --- | --- |
| Features | PK | KC |
| Cloud | ✔️ | ✔️ |
| Key | ✔️ | ✔️ |
| Sync | ❌ | ✔️ |
| Track | ✔️ | ✔️ |
| % | ✔️ | ❌ |
| 1/2 Stitch | ❌ | ✔️ |
| Back Stitch | ❌ | ✔️ |
| Highlighter | ❌ | ✔️ |
| Notes | ❌ | ✔️ |
| Timer | ❌ | ✔️ |
| Hands Free | ❌ | ✔️ |
| Free Trial | ✔️ | ✔️ |
Access Designs Saved to the Cloud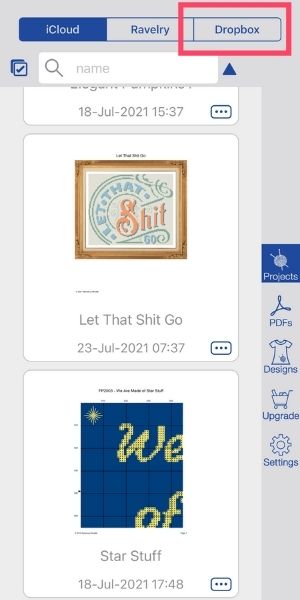 First, Knit Companion and Pattern Keeper both allow you to access patterns you've saved in the cloud. 
One of the coolest features of Knit Companion is that you can sync your projects across iOS devices. It uses the native iCloud function. I use this feature ALL. THE. TIME. I bring my cross stitch to work to stitch while I'm on my lunch break, and sometimes I forget my tablet. On those days, I just use my phone. And I never miss my stitching time. 
For both apps, everything stays exactly where you left it when you close or turn off your device. So you can quickly start exactly where you left off next time you pick up your project.
Per the FAQ page, Pattern Keeper doesn't currently support syncing across devices. You have to save it to the cloud, and then download it on the next device from the cloud file.
No More Paper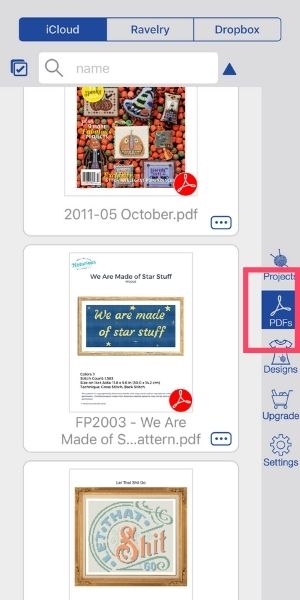 Both Pattern Keeper and Knit Companion use electronic files – specifically PDF files. This allows for all sorts of benefits. As I get older and my eyesight changes, and being able to zoom into a pattern is incredibly helpful! My eyes strain less to see the symbols and I make fewer mistakes (and frog less!)
You can mark up your pattern as you stitch all you want – just like with paper. And when you're done, you can erase all your markups and start over with a fresh, blank pattern. Plus, less paper means less waste and is better for the environment.
You can also manipulate the pattern pages inside Knit Companion. You can combine the pieces of a chart from different pages into one page – this is a game changer for cross-stitch-alongs! – and reorder the PDF pages in any way you want. No more printing them out, trimming the edges and taping them together. lol 
Knit Companion will work with any PDF file, even scanned patterns. Pattern Keeper requires specially formatted files. This means that not every pattern you find will work. In fact, most patterns don't work, and Patter Keeper has a list of supported designers.
If you scan or take a picture of the pattern and load it into Pattern Keeper, you "will not be able to search or add thread numbers." (See the PK FAQ section here.) 
Easy Access Floss Key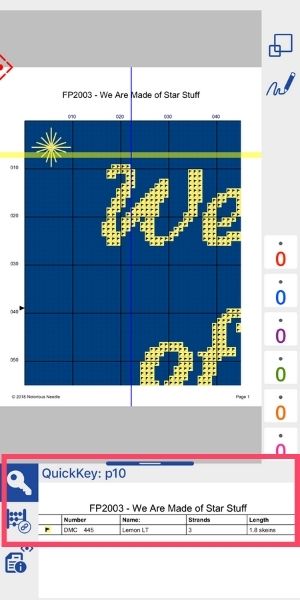 For adding the floss color key, Knit Companion has a simple, intuitive solution. Go to the page in the pattern where the floss key is located, press and hold the key button in the footer. Done! The floss color key will remain in the footer while navigating to every page in your pattern.
The thread list in Pattern Keeper should be automatically imported with the pattern. I say should because this can be glitchy and you may end up manually adding some or all of the floss colors. When I asked about Pattern Keeper in the Facebook groups, this complaint was often a part of the problem when they said the pattern didn't import correctly.
Specialty Stitches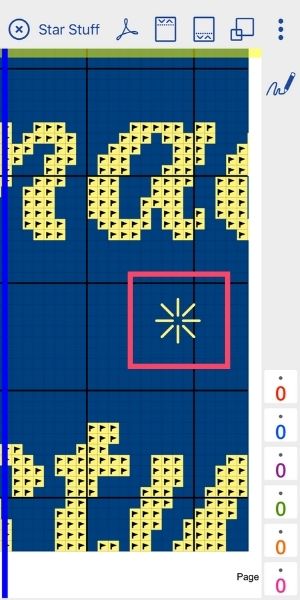 Unfortunately, Pattern Keeper does not support any patterns with specialty stitches. This includes back stitch (commonly found in cross stitch patterns), fractional stitches like quarter- and three-quarter-stitch, French Knots – nada! You can use Pattern Keeper with patterns containing only whole cross stitch.
Knit Companion works with patterns with any type of stitches or symbols. I don't think you can TRACK stitches without a symbol (like back stitch) or stitches that fall in between grid lines (like French knots), but it won't give you errors or glitches when you import the pattern.
Tracking Stitches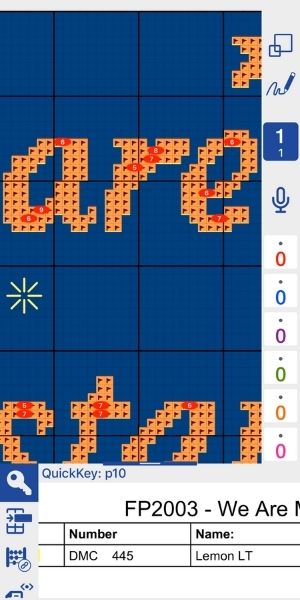 Here's the one area where Pattern Keeper really excels. The app lets you keep track of every cross stitch in the pattern and even tells you the percent (%) completed so far! If you like to stitch very large, full-coverage patterns, then this could be the primary focus for you. 
Knit Companion, too, lets you track every cross stitch. You can track how many you have left to stitch, and how many you have completed through the use of Magic Markers and Custom Markers. It does not include the percent complete, though. And it's a little harder to set up.
Another feature Knit Companion has that Pattern Keeper doesn't is that it will show you how many continuous stitches of a color appear in a row. I usually set mine to show anything 10 and above, since the pattern is usually graphed in 10×10 squares. This means I don't have to count every symbol in the pattern, the app does it for me! Leaving me more time to stitch.
They both require you to mark off each individual stitch. Pattern Keeper does this faster than Knit Companion.
Found Only in Knit Companion
Some features that are useful for cross stitch that are not available in Pattern Keeper:
Row and Column Highlighters
Knit Companion has both a horizontal and vertical marker, as well as a you-are-here marker. This makes it quick and easy to see exactly where you are after looking away from your pattern to stitch. And you can edit these highlighters to be whatever color and width you want. 
I frequently use invert feature of the row highlighter. It highlights the entire pattern except for the row I'm working on. This is great because when I look at my pattern, my eyes go straight to where I'm stitching. I never get lost and have to search and find my place.
Write Notes in Your Pattern
At the footer, in the same area as the floss color key, there's a place to type notes in Knit Companion. This is where I like to keep track of any floss conversions, what fabric I'm stitching on and any other changes to the original pattern.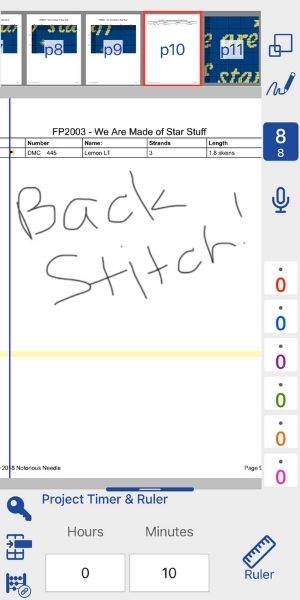 There's also a feature called "Scribbles" that lets you manually write notes on any page in your pattern. If you use iBooks to read PDF files, this feature works similarly to the markup function. You can write a note in your own handwriting, use a "highlighter" on a section, and erase the markings you've already made so you can start with a fresh, blank pattern next time.
Project Timer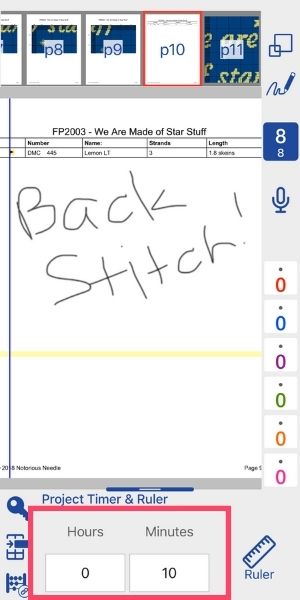 Also in the footer, the project timer keeps track of every minute you have this project open – automatically. You can adjust the timer by typing in minutes and hours, or reset it to zero.
One-Tap and Hands Free 
Use a simple tap of your finger to proceed to the next row, or just tell Knit Companion "Next!" I thought this was just for knitters, but I decided to try it out anyways. I'm glad I did! 
Program Reminders
You can write or create a voice memo that is automatically triggered when you get to a certain part of the pattern. This is especially useful if you're making socks or mittens that come in pairs and you have to keep track of sizes or changes you made to the first piece.
I haven't used this feature yet for cross stitch, but it does present some interesting possibilities for a pattern you might stitch again and again. 
Is there a free version or a trial period?
Pattern Keeper has a 30-day free trial.
Knit Companion has a free version that you can use forever if you want. There is also a 7-day free trial of the paid versions.
Use for Other Stitchy Hobbies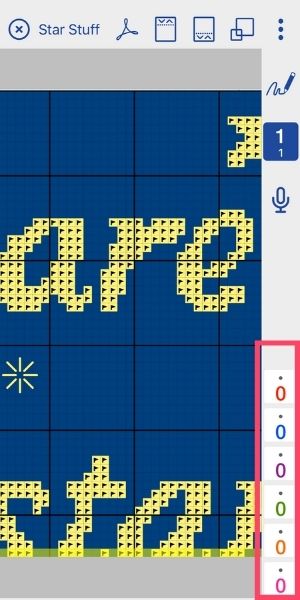 Patter Keeper just isn't diverse enough to support other stitchy hobbies, although some stitchers happily use it for diamond painting.
Knit Companion is great for knitting, of course! It's also good for crochet. My Mom also knits and crochets, and one of her favorite features is keeping the video tutorials in the footer of the project. Knit Companion imports an embedded version of the video directly from a link in your pattern.
It also has six counters that appear at the right side of the screen that you can increase, decrease, and customize by name and color.
How much does Pattern Keeper and Knit Companion Cost?
Price will likely change over time, so check your app store.
As of this writing, Pattern Keeper and Knit Companion are free to download from their marketplaces, and require an in-app purchase to get access to all of the features.
Pattern Keeper is available in Google Play and has a one-time fee of $9 USD
Knit Companion is available in both Google Play and the Apple App Store, and has 3 tiers:
kcBasics – Free
Essentials – $9.99 USD Annual Subscription
Setup+Essentials – $19.99 USD Annual Subscription
Where Can I Learn How to Use Knit Companion?
Knit Companion has a collection of comprehensive tutorials on their website. Here you can learn to use every feature.
https://www.knitcompanion.com/
They also have a collection of FAQs specifically for cross stitchers:
https://www.knitcompanion.com/ufaqs/cross-stitch/
VeryPinkKnits on YouTube created a playlist of how to use Knit Companion for knitting. She walks through all the feature, and gives suggestions on some of the best ways to use it.