Ready to try something different? Set aside your aida cloth and try cross stitch on plastic canvas. Recommended for the confident cross stitcher.
Why Use Plastic Canvas? [Advantages]
It's Stiff
Plastic is stiff and holds its shape. Which makes it the perfect medium for 3D cross stitch projects. Sure, you can make aida cloth stiff with fabric starch. But the super firm stiffness from plastic canvas gives you the freedom to move into the 3rd dimension and create stand-alone works of art with a needle and thread – no sewing machine required!
Your Stitches are Always Straight
Have you ever tried to frame a cross stitch project and realized that it's kinda bent? No matter the tension, plastic canvas doesn't get distorted, leaving each X a perfect square. The stiffness of the plastic means that no matter how tight your stitches, they won't skew the project, which can make it look all crooked. 
It's Durable
Plastic canvas, like all plastic, is very durable, which is great for making things that get a lot of use. Some fun ideas are tote bags, coasters and change purses.
It Won't Fray
Unlike cloth, plastic canvas will never fray. You NEVER have to tape the edges and you can cut it before you stitch.
When Not to Use Plastic Canvas [Disadvantages]
Can't Use a Hoop
Plastic canvas and perforated plastic can't be put into a frame or hoop while stitching. It won't bend enough to fit into a hoop. You can only stitch in hand. But don't worry. The stiffness makes this easy.
Only Bury the Thread in the Back
When you use plastic canvas, you are limited in how to end your thread. Pin Stitch is impossible, since there are no fabric fibers to weave the tail in between. And if you bury the thread in under the front stitches, it will definitely show on by raising the stitches. (Which *could* turn into a cool idea to add texture. Usually, you want the stitches to lie flat.) This limits you to bury the tail under the back of your stitches.
No Fractional Stitches
The plastic is molded, it is not woven. This means there are no fibers to stitch between, only bars. Without fibers to stitch between, you can't create quarter stitches or three-quarter stitches.
Some stitchers hate fractional stitches and will call this an advantage! I call this a slight disadvantage because it will limit the kind of projects that can be used on plastic canvas.
Plastic Canvas for
Needlepoint v. Cross Stitch
Plastic canvas for needlepoint is also known as mesh plastic. It is molded into square holes. The "count" of the plastic canvas indicates how many square holes per inch. Common sizes of plastic canvas are 5 count, 7 count and 10 count. I also use 14ct because it's fun to make tiny things! This method of sizing is similar to aida cloth, which is based on the number of fabric squares per inch.
While this mesh plastic is perfect for needlepoint, a different kind of embroidery, it is not ideal for cross stitch. Because the holes in plastic canvas are square, using it for cross stitch can leave little holes in between the X's.
The kind of plastic canvas you need for cross stitch is called perforated plastic. This type of plastic canvas has circular holes, which helps to create a full-coverage look when using it for cross stitch. Plus, the circularly shaped holes won't snag your floss as you pull it through.
Don't worry – if all you can find is plastic canvas with square holes, you can still make beautiful 3D fiber art.
Pick a Color
Plastic canvas and perforated plastic come in many different colors. White and clear are the easiest to find where I live in sunny Florida. Choose a color of perforated plastic that is complementary to your overall project. While most of the canvas will be covered in embroidery floss, small parts might show through – especially at the corners and joints. Clear works for everything!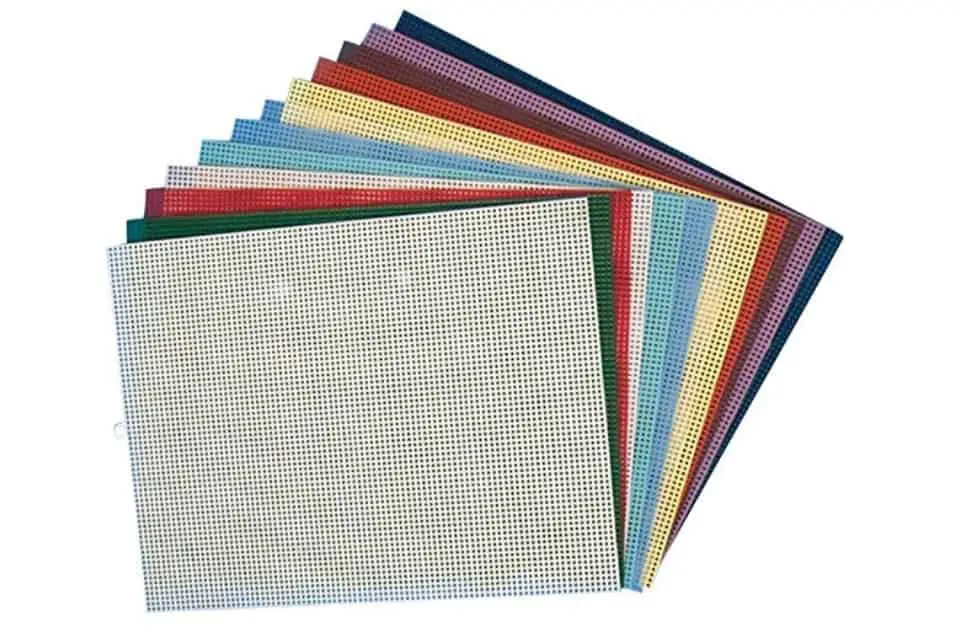 Working with Plastic Canvas for Cross Stitch
Years of experience have taught me some important tips about using plastic canvas for cross stitch projects.
Use a Needle One Size Smaller
The canvas will not give like cloth and you will need the smaller needle to get through the holes, especially when burying floss tails for finishing.
I use a size 24 tapestry needle with 4 threads for 14ct, a size 22 tapestry needle and 6 threads for 10ct perforated plastic. I have used 8 threads for 7 count – this is only recommended for advanced stitchers since threading 8 fibers into a single needle-eye is an entire challenge by itself. For 5 ct plastic canvas, embroidery floss ain't gonna cut it! It's too thin and you really should use yarn.
| | | |
| --- | --- | --- |
| Needle Size | Number of Threads | Canvas Count |
| 24 | 4 | 14 ct |
| 22 | 6 | 10 ct |
| 20 | 8 | 7 ct |
Prepping the Floss for Cross Stitching with Plastic
When separating threads, make sure to separate them one at a time. I do this for every cross stitch project, but especially with projects stitched on plastic canvas and perforated plastic.
Separating all of the threads has several benefits:
Floss covers better because the threads lay more flat

Helps to prevent twisting and knotting making it easier to stitch

Threads fray less as you stitch since they are smooth and not twisted.
Click here for a quick cheat video to separating embroidery floss threads without getting them tangled.
Count the bars (not the holes) when cutting plastic canvas and perforated plastic for counted cross stitch. Counting the holes leaves you one bar too short. Always leave one bar on the outside of the stitches on all sides.
COUNT TWICE! Cut once. 😀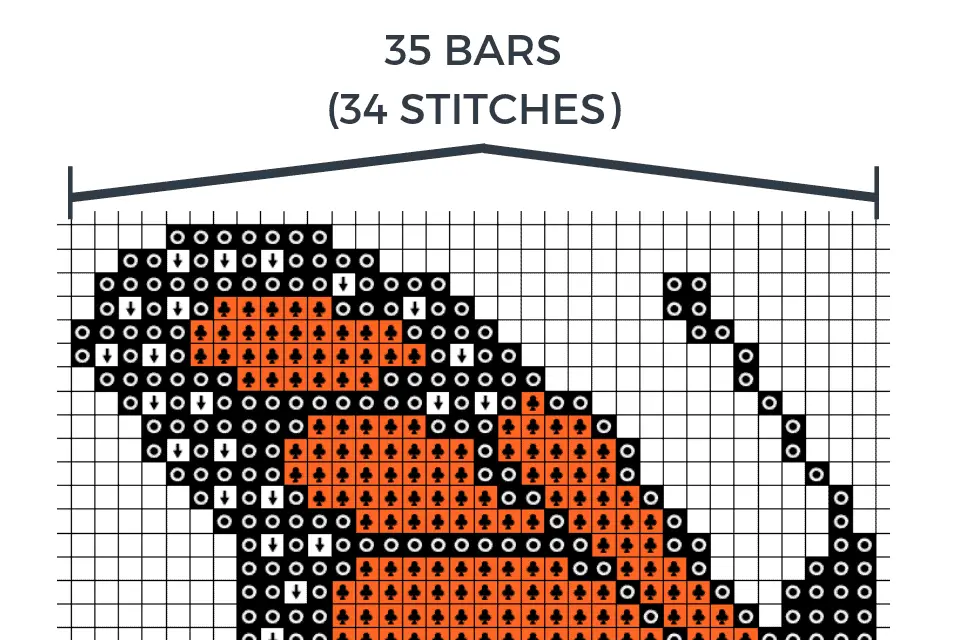 You can cut the plastic before or after you stitch. If you stitch first, remember not to drag the thread in the back across where you have to cut later. And leave at least 2 bars between pieces stitched on the same sheet of plastic canvas or perforated plastic. That way you keep one bar on the outside of all the stitches.
If you cut first, mark the plastic with a sharpie marker (which won't rub off on your floss after it dries) and check carefully before cutting.
When in doubt, leave it too big. If you find while you're stitching that your piece of perforated plastic is too big, you can always cut it smaller. If you cut it too small, you will have to stitch that piece all over again.
Remember to leave one bar on the outside of all of the stitches. The bars are what hold the stitches together. Cut that last bar and the stitches will fall off the canvas.
If that part of the pattern connects with another piece, it's that outer bar that will create the joint.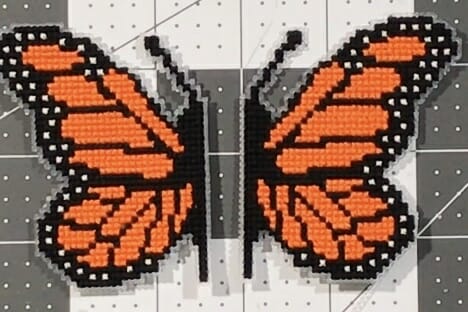 Cut on the holes, leaving the bars fully intact. Cut as close to the bar as possible to be sure there are no tiny bumps left to catch your thread. I recommend cutting after you stitch to help avoid snagging your thread. If the little leftover nubs are too small for your scissors or clippers to trim, you can use a nail file.
After cutting the plastic, trim or file down the corners, too. Less pointy corners make it easier to sew pieces together for 3D patterns. Smoother corners are easier to stitch over using joining stitch or overcast stitch. (I go into more detail for these stitches below).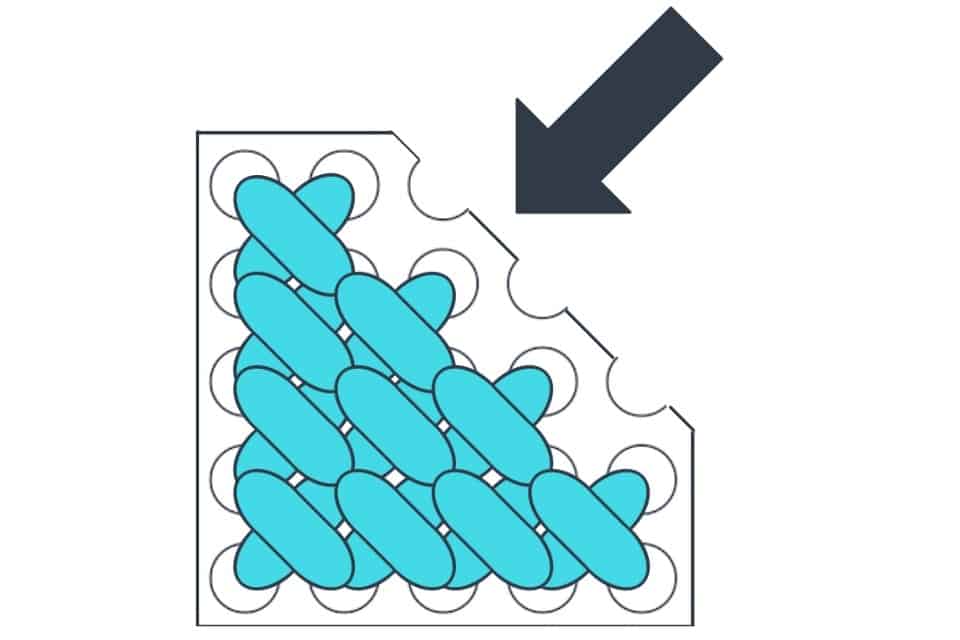 Sewing the Pieces Together – Joining Stitch
Use the Joining Stitch to assemble cross stitch patterns made on more than one piece of plastic canvas or perforated plastic. See the two pieces of perforated plastic stitched together below with pink floss using the Joining Stitch.
Hold the pieces together so that the holes line up. Pull the floss from back to front, through both pieces of plastic canvas. Bring the thread up and over, and pass again from back to front, through the same set of lined-up holes, or the next set. 
Pass the floss through each set of holes on an edge twice. Go through 3 times for outer corners (shown above), and only once through inner corners. 
At the end of the thread, bury the tail under the Joining Stitch and snip it close so it disappears.
It doesn't matter if you work right to left or left to right. If you like all of your cross stitches facing the same direction, you will find that being consistent in the direction you stitch Joining Stitch produces the same alignment in the stitches.
If the floss doesn't cover the canvas well, make more stitches for full coverage.
On a curved or angled seam where the holes do not match up exactly, make extra stitches to compensate and cover the plastic edge.
Finish Off the Edges – Overcast Stitch
After all the pieces are joined together (if any), you finish off the edges with the Overcast Stitch. This is the same as the Joining Stitch, except that there is only one piece of plastic canvas or perforated plastic.
The pink stitches below show the Overcast Stitch.
Notice that these are not in a straight line. The outer corners (such as at the edge near the top in the pic below) have 3 stitches, and the inner corners have only one stitch. Those holes close to the edge have 2 stitches.
Become a VIP and get exclusive access to this and other free patterns.